Posted by Monica Laery on 6th Jan 2023
Life's special moments deserve to be celebrated in style, and what better way to do so than with a luxurious gift hamper? From birthdays and anniversaries to weddings and holidays, these carefully curated hampers are designed to elevate the art of gifting to new heights. Packed with an exquisite selection of sweet and savoury treats, premium beverages, and gourmet delicacies, they offer a symphony of flavours and textures that are guaranteed to impress. In this ultimate guide, we will unveil the top 10 luxurious gift hamper nz ideas for every occasion, allowing you to create moments of pure indulgence and celebration. So, get ready to tantalize your taste buds and discover the true essence of luxury gifting.
1. Decadent Delights: The Chocolate Lover's Dream
Indulge in the world of rich and velvety chocolates with a luxurious gift hamper designed exclusively for chocolate enthusiasts. From artisanal truffles to gourmet chocolate bars, this hamper is a true delight for the senses. It also includes premium hot chocolate blends, chocolate-covered fruits, and other delectable surprises. Perfect for birthdays, anniversaries, or any occasion where a touch of luxury is desired.
2. Wine and Cheese Extravaganza: A Toast to Sophistication
Raise a glass and celebrate in style with a luxurious gift hamper featuring a carefully selected assortment of fine wines and gourmet cheeses. From bold reds to crisp whites, this hamper showcases the best of New Zealand's wine regions. Complemented by a variety of artisanal cheeses, crackers, and accompaniments, it's a sophisticated choice for special occasions or corporate gifting.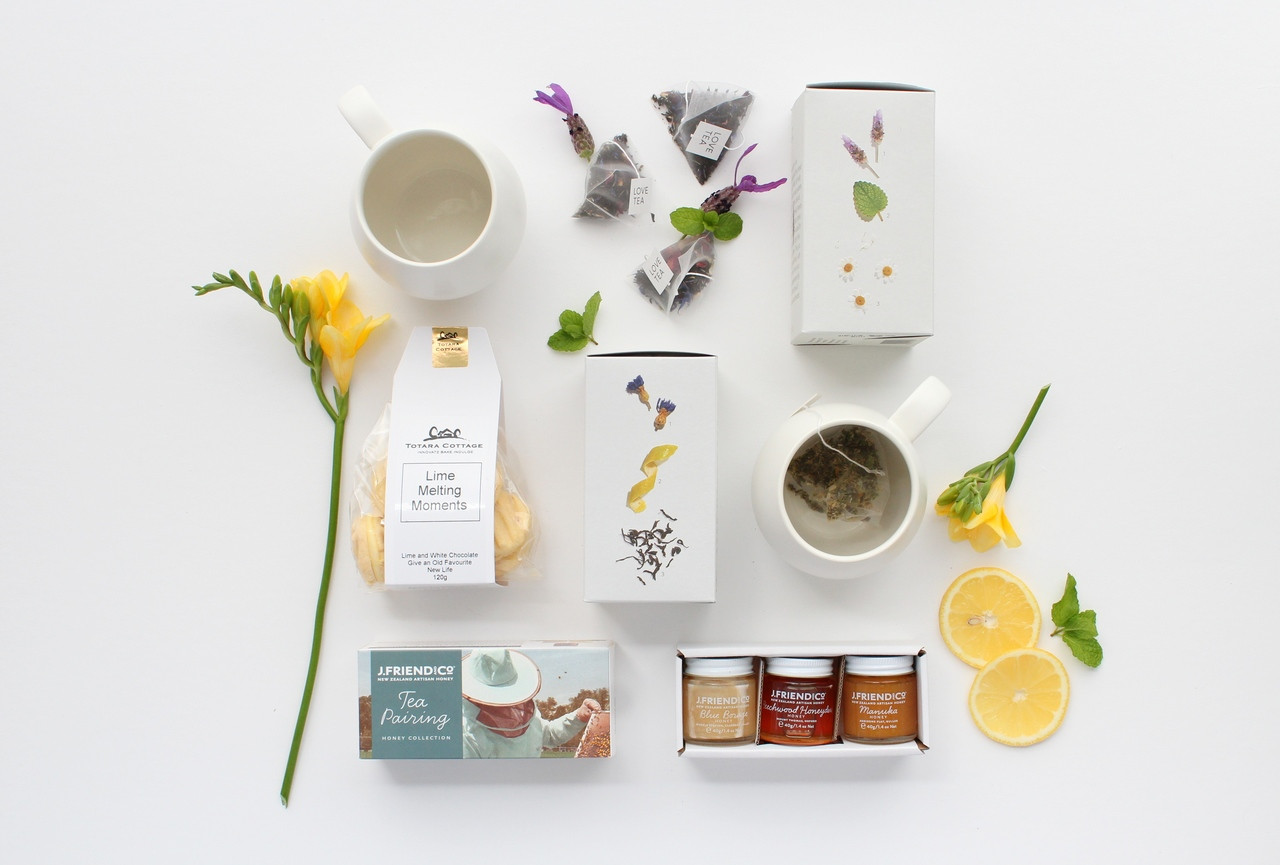 3. Tea Time Indulgence: Sip, Savour, and Relax
For tea lovers, a luxurious gift hamper filled with a selection of premium loose-leaf teas, elegant teaware, and delectable treats is a true indulgence. From aromatic blends to herbal infusions, this hamper invites the recipient to embark on a journey of relaxation and flavours. Perfect for afternoon tea gatherings or moments of self-care.
4. Artisanal Delicacies: A Culinary Adventure
Embark on a gastronomic journey with a luxurious gift hamper showcasing an array of artisanal delicacies. From handcrafted preserves and chutneys to infused oils and gourmet condiments, this hamper is a food lover's dream come true. It also includes specialty crackers, olives, and other carefully curated treats for an extraordinary culinary experience.
5. Pamper and Relaxation: Unwinding in Style
Indulge in the ultimate pampering experience with a luxurious gift hamper designed for relaxation and self-care. Featuring premium bath and body products, scented candles, plush towels, and soothing lotions, this hamper creates a spa-like ambiance at home. It's the perfect gift for birthdays, bridal showers, or to show someone you care.
6. Whiskey and Cigar Appreciation: The Perfect Pairing
For those who appreciate the finer things in life, a luxurious gift hamper nz highlighting the art of whiskey and cigar appreciation is a sophisticated choice. This hamper includes premium whiskeys, hand-rolled cigars, whiskey glasses, and a selection of gourmet snacks to complement the experience. Ideal for celebrating achievements, promotions, or special milestones.
7. Gourmet Picnic Essentials: Al Fresco Dining at its Finest
Elevate outdoor dining with a luxurious gift hamper filled with gourmet picnic essentials. From artisanal cheeses and charcuterie to freshly baked bread and indulgent desserts, this hamper sets the stage for a memorable picnic experience. Complete with a stylish picnic blanket, utensils, and accessories, it's the perfect gift for nature lovers and outdoor enthusiasts.
8. Spa Retreat at Home: Serenity and Bliss
Transform any space into a tranquil oasis with a luxurious gift hamper dedicated to relaxation and rejuvenation. This hamper features high-quality bath and body products, scented candles, plush robes, and other spa-inspired essentials. It's a thoughtful gift for birthdays, anniversaries, or as a gesture of self-care for someone in need of pampering.
9. Gourmet Coffee Delights: For the Coffee Connoisseur
For the coffee aficionado, a luxurious gift hamper filled with a selection of premium coffee beans, specialty blends, and gourmet coffee accessories is a true delight. From rich espresso to smooth pour-over brews, this hamper offers a sensory journey through the world of coffee. Perfect for birthdays, housewarmings, or to fuel the caffeine cravings of a coffee lover.
10. Seasonal Splendour: Celebrating Festive Traditions
Embrace the spirit of the season with a luxurious gift hamper nz designed to celebrate festive traditions. From holiday-themed treats and gourmet delights to beautifully crafted decorations and keepsakes, this hamper captures the essence of special occasions. It's a perfect gift for Christmas, New Year's, or any festive celebration that calls for joyous indulgence.
From sweet to savoury, luxurious gift hampers offer an unparalleled gifting experience for every occasion. Whether it's a celebration, appreciation, or simply wanting to make someone's day, these carefully curated hampers are designed to delight the senses and leave a lasting impression. From the chocolate lover's dream to wine and cheese indulgence, tea time bliss to culinary adventures, there's a luxurious gift hamper in New Zealand for every taste and preference. So, go ahead and celebrate life's moments with these top 10 luxurious gift hampers, creating memories and cherished moments with your loved ones.
Featured Products