Posted by Susie MacMillan on 8th Aug 2023
Unwrapping the Magic of Christmas Gifting
The holiday season is upon us, and with it comes the joy of giving and receiving. This year, elevate your gifting game with the ultimate expression of thoughtfulness and elegance. We've curated a list of the top 10 gift boxes nz hamper ideas that are sure to spread warmth and delight during the festive season.
A Symphony of Flavours in Every Hamper
Prepare to embark on a journey through taste, aroma, and texture as each of these Christmas gift box hampers is a symphony of flavours waiting to be unwrapped. From savoury to sweet, traditional to contemporary, these hampers encapsulate the essence of the holiday spirit.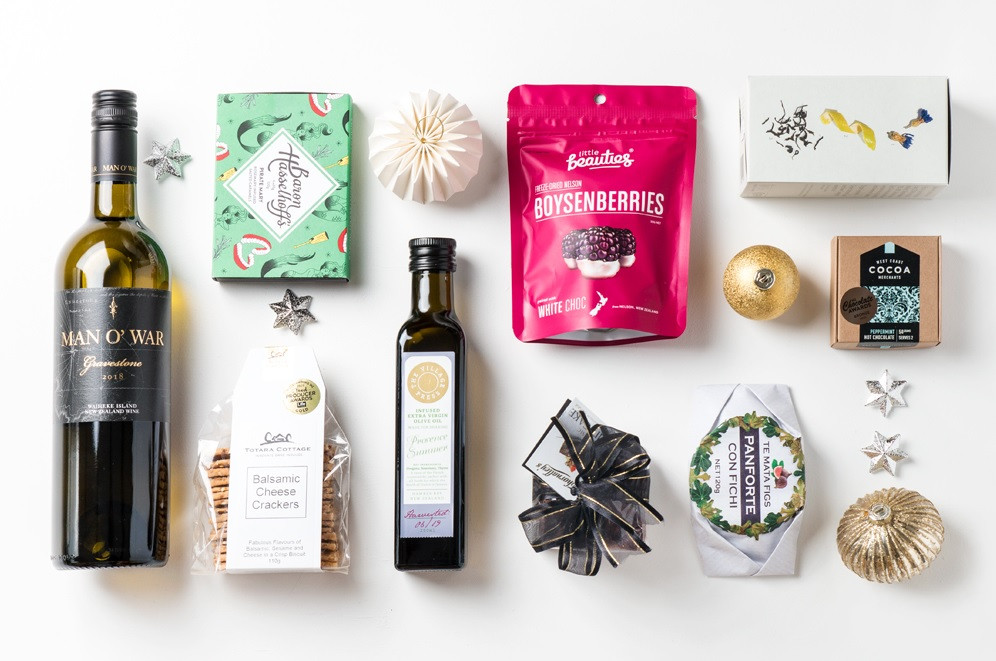 1. The Classic Yuletide Hamper
Embrace the timeless charm of Christmas with the Classic Yuletide Hamper. Filled with rich fruitcake, premium mulled wine, traditional mince pies, and delectable shortbread cookies, this hamper captures the essence of a traditional Christmas celebration.
2. Gourmet Gastronomy Delights
For the culinary enthusiasts, the Gourmet Gastronomy Delights hamper is a match made in heaven. Packed with artisanal cheeses, aged wines, exquisite olive oils, and a selection of charcuterie, this hamper promises an unforgettable gastronomic journey.
3. Whimsical Winter Wonderland
Transport your loved ones to a Whimsical Winter Wonderland with a hamper that combines festive flavours and enchanting treats. From snowflake-shaped cookies to hot cocoa mixes and marshmallow snowmen, this hamper is a celebration of all things cozy and delightful.
4. Health and Wellness Retreat
Show your care and consideration with the Health and Wellness Retreat hamper. Filled with organic teas, superfood snacks, essential oil diffusers, and relaxation-inducing goodies, this hamper is a reminder of the importance of self-care during the busy holiday season.
5. The Artisanal Chocolate Extravaganza
Indulge the sweet tooth in your life with the Artisanal Chocolate Extravaganza. This hamper is a haven for chocolate lovers, featuring handcrafted chocolates, cocoa-dusted truffles, chocolate-covered nuts, and more, all wrapped in elegance.
6. A Toast to Elegance - Wine and Cheese Hamper
Raise a toast to the festive season with the A Toast to Elegance hamper. Combining the sophistication of aged wines with the richness of artisanal cheeses, this hamper is a celebration of elegance and refined taste.
7. Ultimate Spa and Relaxation Hamper
Gift the gift of tranquility with The Ultimate Spa and Relaxation Hamper. Brimming with luxurious bath oils, scented candles, plush robes, and pampering essentials, this hamper is a serene escape from the holiday hustle.
8. For the Little Elves - Kids' Fun-Filled Hamper
Ensure the little ones have a memorable Christmas with the Kids' Fun-Filled Hamper. Packed with festive activity books, playful toys, colourful treats, and a dash of magic, this hamper promises giggles and joy.
9. The Green Thumb's Delight - Gardening Essentials Hamper
For those with a passion for gardening, The Green Thumb's Delight is a hamper that cultivates joy. Featuring seeds, gardening tools, plant care guides, and a touch of floral beauty, this hamper is a breath of fresh air.
10. A Taste of World Cuisine
Embark on a global culinary adventure with A Taste of World Cuisine hamper. From exotic spices to international gourmet ingredients, this hamper allows the recipient to explore the world's flavours from the comfort of their kitchen.
Crafting Lasting Memories with Gift Boxes NZ Hampers
This holiday season, make your gifting unforgettable with these top 10 Christmas gift box hamper ideas. Each hamper is a carefully curated assortment of delights, designed to convey your love, appreciation, and the festive spirit. Whether it's the warmth of a classic Yuletide Hamper or the adventure of A Taste of World Cuisine, these hampers are more than just gifts—they're a reflection of your thoughtfulness and the joy of sharing in the magic of Christmas.
For all your gift boxes NZ needs, Willow and Wolfe has a wide selection of gift hampers beyond the ordinary for every occasion, including hampers for ladies. Choose from best sellers, new arrivals, gifts for her, him, babies, alcohol lovers, or build your own. Thoughtfully curated with fine flavors and textures, our hampers create magical memories.
Visit www.willowandwolfe.co.nz to find the perfect gift box hampers.
Featured Products